Amazon Music announced that it acquired podcast distributor and monetisation firm Art19. The move appears to be in line with the eCommerce giant's ambitions to expand its podcast advertising options.
Table of Contents
Amazon Music acquires podcast ad expert Art19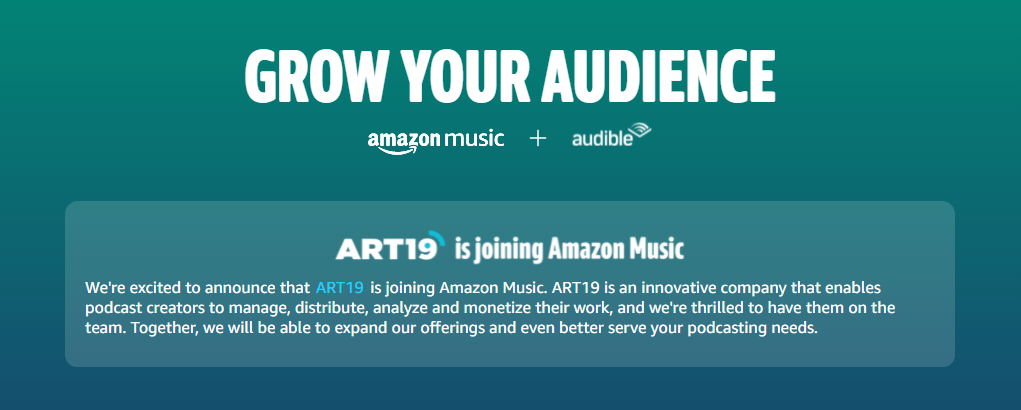 Amazon Music acquires podcast ad expert Art19
Art19 was launched in 2015 and offers a content and ad platform for marketers. Its tools allow clients to track campaigns in real-time and measure impressions and downloads.
Production and creative tools are also accessible. Ads distributed by Art19 have appeared on high-profile podcasts such as "Late Night with Seth Meyers" and "The Daily Dish".
Amazon acquired Wondery, the podcast network in late 2020 at a reported value of around $300 million.
It seems that adding ad tools to its podcast ambitions in the next frontier the company is trying to tackle to rival Spotify which launched its Spotify Audience Network earlier this year.
Ad revenues for podcasts grew 19% year-on-year to $842 million in 2020, according to the IAB.
PODCASTER FAQ
Why should I put my podcast on Amazon Music and Audible?
Amazon Music is one of the largest on-demand streaming music platforms with 55 million global customers and growing rapidly. It is also tightly integrated with the Alexa ecosystem, delivering a best in class experience for smart speaker users. Audible is the most popular audiobooks service in the world with a large and loyal customer base that loves great storytelling. For content creators, enabling your content to be distributed on Amazon Music and Audible allows you to grow your audience by reaching these customers, many of whom will be new to podcasting.
How do I submit my podcast content to Amazon Music and Audible?
You can submit your podcast's RSS feed using the opt-in submission. Please only submit one feed URL per series (all episodes will be ingested from the feed URL). You will be required to agree to our content license agreement before we can carry your podcast content.
How long will it take for my podcast to appear on Amazon Music and Audible?
Once you have submitted your podcast, please allow up to 24 hours for your show to become listed. The best way to know if your podcast is available is to search for your show on Amazon Music and Audible.
Does Amazon Music/Audible re-host my content?
Podcast stream directly from your hosting provider so all your metrics will be unaffected. If you are running advertising through a dynamic ad insertion system, things will work the same as on other major podcasting platforms.