Duolingo, the popular language-learning app founded in 2011, has filed for an initial public offering (IPO).
The Duolingo company reported revenues that increased 97% to $55.4 million for the first quarter of 2021. However, net losses came to $13.5 million.
Table of Contents
App Marketing News – Duolingo files for IPO
App Marketing News – Duolingo files for IPO
The company was valued at $2.4 billion after it raised $35 million in funding late last year.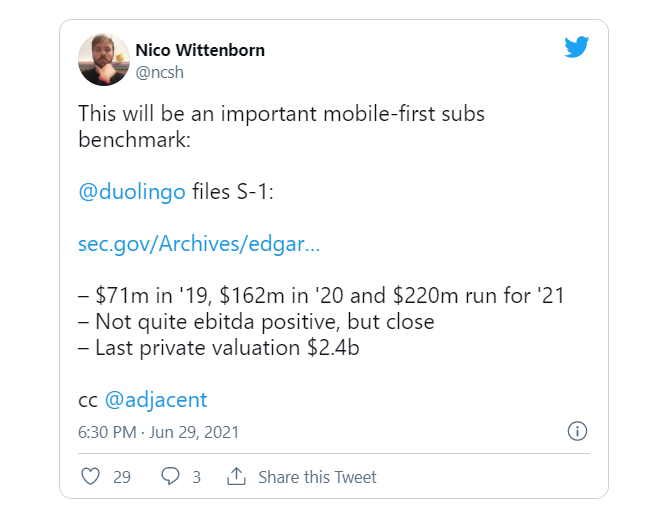 Duolingo said it has over 500 million global downloads to date and is the top-grossing language app on both the Google Play Store and the Apple App Store.
It boasts some 40 million monthly active users and offers 38 languages for free.
Duolingo Prospectus Summary
This summary highlights selected information that is presented in greater detail elsewhere in this prospectus. This summary does not contain all of the information you should consider before investing in our Class A common stock. You should read this entire prospectus carefully, including the sections titled "Risk Factors," "Special Note Regarding Forward-Looking Statements," and "Management's Discussion and Analysis of Financial Condition and Results of Operations," and our consolidated financial statements and related notes included elsewhere in this prospectus, before making an investment decision. Unless the context otherwise requires, the terms "Duolingo," the "company," "we," "us," and "our" in this prospectus refer to Duolingo, Inc. and its consolidated subsidiaries, and the phrase "our learners" refers to the users of our language learning app.
Although education can open the door to economic opportunity, it is also among the principal sources of inequality: the privileged can get the best education in the world, while those with fewer resources, especially in developing countries, may not be able to get even basic schooling. That is why we started Duolingo. We believe that everyone, regardless of how wealthy they are, should have access to high quality education. And for the first time in history, the technology necessary to enable this is in the hands of billions of people, in the form of a smartphone. At Duolingo, we build products native to the smartphone – bite-sized, on-demand and engaging – to make learning accessible and effective, opening doors for everyone alike.
Who Duolingo Are?
Duolingo is a technology company founded by two engineers, Luis von Ahn and Severin Hacker. Luis and Severin met at Carnegie Mellon University, where Luis was a professor in the Computer Science Department and Severin was his Ph.D. student. Luis, a MacArthur Fellow, grew up in Guatemala and witnessed firsthand the tremendous impact that access to high quality education can have on people's lives. Luis and Severin bonded over the dream of building an intelligent learning system informed by massive amounts of user engagement data that could deliver superior learning outcomes.
Our team of over 400 passionate employees, including more than 170 engineers, aims to build the most sophisticated education platform in the world. We believe that by using modern technology, the very best engineering talent, and a mission-driven approach, we can create better learning experiences and meaningful improvements in efficacy. Our products are powered by sophisticated data analytics and artificial intelligence that make it easier for learners to stay motivated, master new material, and achieve their learning goals.
Duolingo Business
Duolingo is the leading mobile learning platform globally. With over 500 million downloads, our flagship app has organically become the world's most popular way to learn languages and the top-grossing app in the Education category on both Google Play and the Apple App Store. For many, Duolingo has become synonymous with language learning: for example, on Google, people search the term "Duolingo" nine times more often than "learn Spanish." We are particularly proud that our learners come from the entire socioeconomic spectrum, ranging from billionaires and celebrities to recently resettled refugees, a rare instance in which more money does not imply better access to a high quality educational platform.
Duolingo started with a focus on teaching languages because of the profound impact learning a new language can have on people's lives, as well as the large market opportunity. According to HolonIQ, 1.8 billion people across the world are learning a new language, and in 2019, consumer spend on both online and offline language learning represented a $61 billion market. Driving much of the demand for language learning is the reality that English can unlock tremendous economic opportunity. And the power of language learning is not limited to economic advancement. Learning another language can unlock new experiences and deep human connections, ranging from navigating a first trip to another country, to communicating with family members of an older generation.
Duolingo offers courses in 40 languages to approximately 40 million monthly active users. To put our scale in context, there are more people in the United States learning languages on Duolingo than there are foreign language learners in all US high schools combined, and there are more people learning certain languages on Duolingo, like Irish and Hawaiian, than there are native speakers of those languages worldwide.
Duolingo is the learning product built for the mobile generation: bite-sized, on-demand and fun. We believe that the hardest part of learning something new is staying motivated, so we build gamification features into our platform to motivate our learners, and we run thousands of A/B tests to optimize each feature for maximum engagement. Our obsession with user experience has yielded affinity and loyalty in our learners, which in turn has helped us cultivate millions of brand advocates who tell their friends and families about our products. Indeed, our brand has become part of pop culture, appearing in internet memes and sketches on late night comedy shows. All of this has allowed us to grow our business organically, primarily relying on word-of-mouth virality rather than paid user acquisition.
Our millions of learners complete over 500 million exercises every day, creating what we believe to be the world's largest learning dataset. This data powers the high volume A/B testing and novel artificial intelligence (AI) that we use to continually improve how well we teach. According to an internal study, people who complete five "Units" of Duolingo, or roughly half of one of our courses, learn as much as students taking four university semesters of language education—and they do so in half the time.
We intentionally do not put our learning content behind a paywall. Anyone can download the Duolingo app, use it for as long as they like, and complete as many of our courses as they choose, all without paying anything. Learners who use Duolingo for free see an ad at the end of each lesson, whereas learners who purchase Duolingo Plus, our premium subscription, enjoy an ad-free experience and access to additional features. As of March 31, 2021, approximately 5% of our monthly active users were paid subscribers of Duolingo Plus. Our paid subscriber penetration has increased steadily since we launched Duolingo Plus in 2017 and, combined with our user growth, has led to our revenue more than doubling every year since. We have a strong future roadmap of feature improvements and optimizations, and believe we are in the early stages of increasing our paid subscriber penetration.
Our freemium business model is core to our success because it enables significant user scale. Our growth and competitive differentiation have been driven by two mutually-reinforcing flywheels: our learning flywheel and our investment flywheel.
•Learning flywheel: The greater the scale of our learner base, the more we can use insights from data analytics to improve both engagement and efficacy. The more engaging our products are, and the more effectively we teach, the more our learners tell their friends about Duolingo, and the more we continue to grow our learner base.
•Investment flywheel: Our learner scale and word-of-mouth growth allow us to focus our capital investments on product innovation and data analytics, as opposed to brand or performance marketing. The more learners use Duolingo and convert into paid subscribers, the more we are able to invest in creating an even more delightful, engaging and effective learning experience. In turn, this increases our popularity and user scale, as well as the effectiveness of our data analytics, further widening our competitive moat.
Industry Trends
Mobile-first behaviors are reshaping industries. In categories ranging from retail to music to dating, consumers are increasingly gravitating to mobile, app-based experiences. We believe that consumer behavior will continue to be shaped by a preference for the convenient, on-demand nature of mobile experiences.
The shift towards online learning is accelerating. Historically, education has lagged behind other industries in the shift from offline to online. According to GSV Ventures, the 2019 digital learning market represented $160 billion in spend—already a sizable number, but still only 2.3% of total global education expenditures. However, the COVID-19 pandemic sparked a radical shift towards online learning, and its effects are likely to be enduring. GSV Ventures now predicts that digital learning will reach 11% of education market expenditures by 2026, representing approximately $1 trillion in spend and a 26% compound annual growth rate (CAGR) from 2019 to 2026.
Online learners seek engaging, mobile-first experiences. Consumers are increasingly accustomed to the highly engaging design of social media apps and mobile games. We believe that consumers turning to online learning will not only prefer the convenience and control that mobile apps provide, but also expect experiences to be highly engaging.
Adoption of subscription models is growing globally. Rising adoption of subscription models across the globe is further enabling the shift towards mobile experiences. We believe that as subscriptions increase in popularity across categories, consumers will also gravitate towards subscription models in online learning.
Market Opportunity
The global market for direct-to-consumer language learning is large, growing, and shifting online. According to HolonIQ, total consumer spend on both online and offline language learning represented a $61 billion market in 2019, and will grow to $115 billion in 2025, implying a CAGR of 11% over this period. Online language learning is the fastest-growing market segment, projected to grow from $12 billion in 2019 to $47 billion in 2025, representing a CAGR of approximately 26% over this period, and to comprise 41% of total consumer spend on language learning in 2025. We believe that growth in digital spend will be driven in part by a shift away from offline offerings, as consumers seek more affordable, convenient, and higher quality online solutions.
We also believe that growth in online language learning spend will be driven by consumers who would not have paid for offline offerings, but now choose to purchase online products. For example, according to a survey we conducted in 2021, almost 80% of Duolingo users in the US were not already learning a language when they began using Duolingo. Globally, GSMA reports that the number of mobile internet users is projected to grow from 3.8 billion at the end of 2019 to 5.0 billion by 2025. Growth in smartphone adoption can open up new access to the convenience and affordability of mobile-first learning to hundreds of millions of people.
We also have a significant opportunity to impact more learners around the world by extending our platform beyond language learning. According to HolonIQ, approximately $6 trillion was spent on education globally in 2019. And GSV Ventures reports that $160 billion was spent on digital learning, with digital spend expected to grow at a 26% CAGR from 2019 to 2026. We believe we can expand our addressable market by extending our scalable platform to other segments of learning such as literacy and math.
The Duolingo Learning Experience
The Duolingo learning experience sits at the rare intersection of fun and self-improvement. Learners love Duolingo because:
•It's fun. Duolingo feels more like a mobile game than an education product. Our bite-sized lessons and gamification features motivate learners to come back each day to continue learning.
•It's effective. Learners stick with Duolingo at first because it's fun, and then over time also because they find that it works. Our expert-designed courses help learners build robust speaking, reading, listening, and writing skills, and our data analytics power personalization and superior learning outcomes.
•It's free. Every language course on Duolingo is free to access. Learners can spend as much time learning as they want and complete any and every course without paying. This lowers barriers to start learning and to keep learning.
In a world where people are increasingly engaged in immersive, bite-sized, mobile-first experiences, we provide such an experience that also results in learning valuable skills. Indeed, many of our learners prefer to spend time on Duolingo rather than on social media or mobile games because they can learn while still feeling entertained.