In recent years, marketers have seen the reach traditionally associated with television boosted – and greater efficiency overall – by adding digital to the mix. In addition, using both types of media provides an opportunity to keep pace with changing audience behaviors. With the onset of the COVID-19 pandemic, people surveyed in Asia say they're spending more time online on activities such as shopping (32% increase) and streaming video (42% increase).
CONTENTS
These short-term and long-term changes have made it even more critical for businesses to stay connected to people with efficient, impactful marketing. In order to help marketers understand how TV and digital work together, Facebook commissioned Nielsen to conduct a meta-analysis on local cross-platform ad campaigns that ran from March 2018 to July 2019.
The study tracked 10 TV and digital campaigns in Thailand and Indonesia (20 campaigns in total) using Nielsen Total Ad Ratings (TAR). The campaigns ran across multiple product categories in each market. The Nielsen TAR approach examined the unique and overlapping reach of TV and digital ads through Audience Link, Nielsen's single-source data matching tool.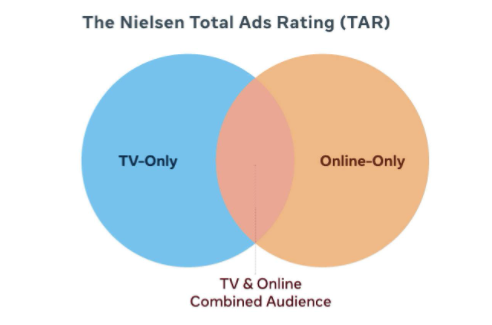 Digital and TV: Better together
The meta-analysis showed that combining TV and digital ad campaigns added 15% additional incremental reach on average in Indonesia and Thailand, compared to running TV campaigns alone. By expanding their media mix, advertisers were able to get their brands in front of 15% more people within their target who otherwise wouldn't have seen their ads.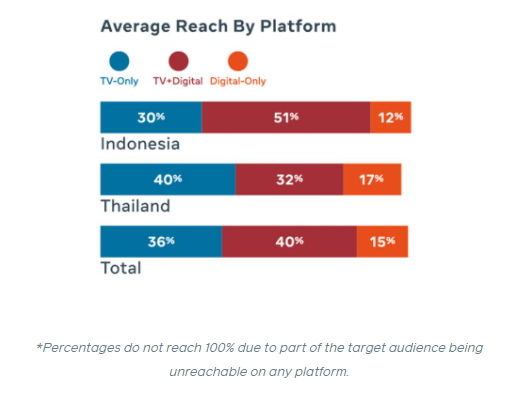 Finding hard-to-reach audiences
The research also showed that digital campaigns have the potential to reach younger audiences, specifically those under age 34, more effectively than TV. The TAR study found that the majority (81% in Indonesia and 60% in Thailand) of the digital incremental audience—the people who were reached online and not via TV—were under age 34, with the larger share from those under 25.

More efficient audience targeting
Researchers at Nielsen also compared the on-target percentage between TV and digital in Thailand and Indonesia in order to determine which channel reached targeted audiences more effectively. Digital campaigns were 85% on target, considerably higher than TV: 33% on target. Thailand in particular showed a strong efficiency for digital on-target reach with a 91% on-target rate.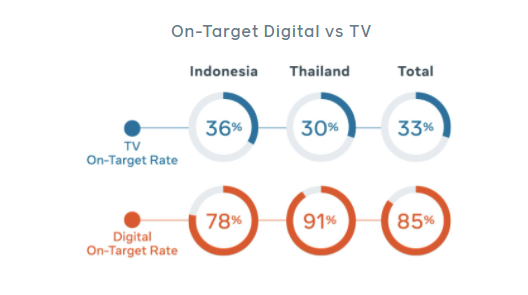 As Southeast Asian consumers spend more time online, marketers can make a greater impact with their campaign by engaging with target consumers on both TV and digital. Advertisers should consider broadening their media approach and finding the most efficient mix to reach high-value target audiences at scale.
What it means for marketers
Embrace a cross-platform strategy to potentially increase incremental reach.

Even with strong investment in TV campaigns in Southeast Asia, there's room to reach an incremental audience through digital activity: Both channels can achieve broad reach in the region.

Increase efficiency for your campaigns with your media mix.

On-target audiences can be built more efficiently by including digital. Digital impressions in both Indonesia and Thailand delivered a higher on-target percentage than TV.

Access audiences that are typically harder to reach through TV with digital.

Different audiences tend to be exposed to different channels. Digital channels can expand access to audiences, especially those under 34 who watch less television.

Resource: