ASOWorld data on industry trends analysis shows that mobile performance advertising company Vungle announced that it has acquired mobile game analysis company GameRefinery.
Financial details of the transaction were not disclosed.
GameRefinery operates a smart platform that provides developers with insights about application retention and monetization through cloud-based tools. Customers include Zynga, King an Rovio.
The company provides contextual data sets for more than 160,000 gaming applications, which may severely expand Vungle's targeting capabilities and ultimately help advertisers arrange more relevant campaigns.
Jeremy Bundy said: "Vungle, GameRefinery and Algolift together provide the only platform that can be combined with game and product teams in the development phase, marketing in the expansion phase, UA and growth teams, and data teams in evaluating and improving results. To communicate.", CEO of Vungle.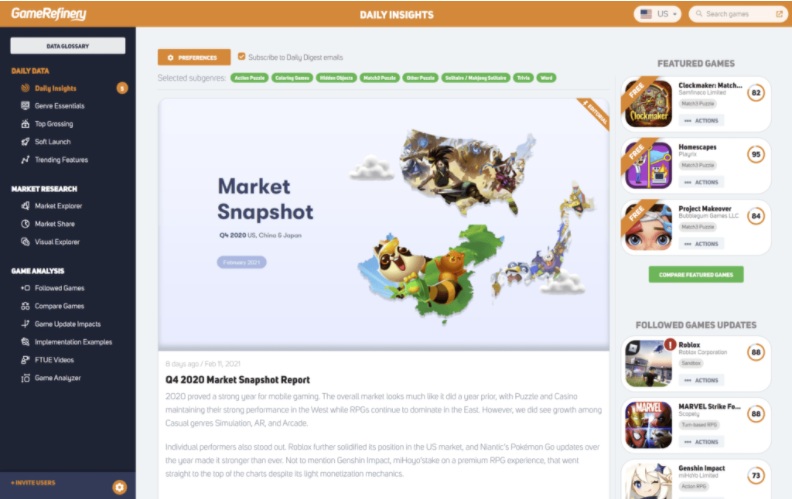 "We are happy to welcome an outstanding GameRefinery team to the Vungle family, and our position as a trusted guide for developers has never been stronger."
GameRefinery also provides image recognition and creative positioning functions, which will be integrated as part of Vungle Creative Labs.
Martin Price, Vungle's vice president of product, said: "The combined product will enable Vungle to connect with advertisers across multiple regions on the platform through deeper creative analysis and insights, content-related positioning recommendations and reports."
"In view of the privacy-related changes in iOS 14 and the entire industry, it is now more important than ever to find creative ways to understand the context of ad placement and drive better ad material positioning. The acquisition of GameRefinery provides us with more The rich data suite allows us to do this."
The co-founders of GameRefiners, Markus Råmark, Veli-Pekka Julkunen and Joel Julkunen and the entire team are all ready to join Vungle and start business outside the Finnish office.
People also like to ask:
Contact us by facebook as: ASOWorld team